Slide 5
Internship | Part Time | Full Time

Slide 5 - copy
Hire - Intern | Fresher | Experienced

Slide 5 - copy
Find - Job Seeker | Recruiter | Interns

Slide 5 - copy
Connect HR | Build Communitiy | Branding

Slide 5 - copy - copy
Technical | Non-Technical | Corporate Training

Slide 5 - copy
IT | Non IT | Industry Consultant

Slide 5 - copy - copy
CV Writer | SEO Content | Technical Writing

Slide 5 - copy - copy
Hire | Find Professional | Network

Slide 5 - copy - copy - copy
Eligibility | Last Date | Form Weblink
Are you looking for Resume Writing Services in Delhi
Call Now 9212232332
OR
Send Query [email protected]
We are in Delhi NCR only Resume Writer who meet Face to Face with clients to understand their specific requirements for professional cv writing.
Are you Looking for a Professional CV Writer? Let Gweka be the help!
CV Writer | SEO Content | Technical Writing
If you are someone who is bestowed with bits and pieces of professional writing and seeking work to lend out services such as resume writing services, blog writing, technical writing, and other such services, you are at the right place. Gweka, one of the most trusted consulting firms in Delhi/NCR, is always ready to help talented people like you to make a living out of their skills. Irrespective of the market situation, with Gweka, you can guarantee yourself a whole lot of work. 
On one hand, businesses today function through websites and mobile applications leading to a huge demand for various types of content writers. And, on the other hand, many job aspirants (both fresher and experienced) are exploring the internet for professional resume writing services to get their dream job. Not just job aspirants, college TPOs also try to get in touch with writers providing resume writing services for the obvious reason. And what we do is to provide an apt platform that matches the demand with it best-fit human resource – skilled writers like you.
Once you register yourself with Gweka, you will never fell short of work whether it's about being a resume writing professional or copywriting professional or whatever writing professional you want to be. You can choose to be a freelancer with a bunch of clients in hand or you can land yourself in a full-time job in your writing niche Gweka has a vast network of employers and organizations that produces a sufficient demand for writing work.
It has always been a scorching task to find relevant jobs for content writers. Gweka Consulting Services feels proud to make that task easy and fun with a flood of content writing jobs. Candidates can not only find office jobs but can also grab an opportunity to work as a freelance content writer. Both kinds of jobs are present on our GCS Job portal, which helps content writers to earn two different incomes every day. 
Services You Can Avail as a Content Writer-
Name of Services
Description

Connect Prospects

Pitch your writing services to HR's on GCS with sample and quotations.
Resume Writing
Get in touch with College TPO's or Job Seekers to get resume writing work.

Connect Corporate Trainer

You can pitch your writing services to Corporate Trainers to write their social profiles and training material.

Connect Community 

Get connected to the

community of content writers

to learn and earn more.

Job & Freelancing

You can find office job or freelancing work from home job or both with Gweka Consulting Services.
Register with us!
Want to hire highly Professional CV writer in Delhi? Trust only Gweka!
Being an employer or a businessman, we think you understand the importance of having a highly skilled professional writer on-board. From website content to effective marketing copies and from Press Releases to product descriptions, today, writers are an inevitable part of every business. Also, writers are a big help to job-seeking individuals and College TPOs (for bulk resume writing services at cheap rates).
At Gweka.com, we are firm and pledged to lay the foundation as one of the best platforms to help those who want to hire a professional writers for some work for example professional resume writing services in India. We put our resources to find the best-suited writer as per your industry vertical.
Whether you're merely updating your resume or creating an entirely new one, resume writing can be a very stressful task. That's why many job seekers resort to hiring a resume writing service. But the problem is, there is no such trustworthy platform that can promisingly provide result-oriented professional resume writing service. And, that's why we at Gweka made an International level platform where job seekers can easily get in touch with a resume writing professional who will help them to grab their dream job.
Resume Writing – An important service
Let our expert's draft your resume or you can also connect with Resume Writers through GCS network. Resume is the most important thing when applying for a job. Doesn't matter how qualified you are, or how much experience you have – a badly drafted resume cannot yield jobs for you. That's why our consultancy for job in Delhi provides resume writing service to job seekers.
Below Mentioned 10 Points are Very Important for A Good Resume
Name & Contact details
Opening statement/Career Objective
List of key skills
List of technical/software skills
Personal attributes
Career overview
Educational qualifications 
Employment history ( latest employment first)
List of impactful work done on job
Personal Details
Type of writers associated with Gweka
| | | |
| --- | --- | --- |
| | | |
| | | Customer Success Stories Writer |
| | | |
| Press Release Content Writer | | |
| | | |
| | | Non Technical Content Writer |
Gweka Consulting Services is an independent organization as we have helped many content writers in finding a perfect suited job. Our portal has seen many registrations from both fresher and experienced content writers and made them find a dream job successfully. Our network is full of vacancies for different kind of writers such as SEO Writer, Blog Writer, Technical and Non-technical writer, Creative Writer, Copy Writing and Resume writer. Gweka Consulting Services is a writer's place. 
Few Major Writing Services are discussed here: -
Gweka provides Preeminent and Professional Resume Writing Services in India
We, at Gweka, ensure the desires and ambitions are achieved. For that, we deliver the best professional resume writing services in India, whether you are starting your career or in the mid of your career. We have many skilled and experienced resume writing professionals associated with us who can be the best help for you. All you are required to do is, register with Gweka as a job seeker, send your query, and get connected with a resume writer providing resume writing professional services. After that, share your details and just wait for the best ever resume of your life.
Benefit of Resume Writing Services
A well-written resume can accelerate your job search in the most précised direction.
Professional resume writing services can help you get a perfect summary for your job search.
A grammatically correct resume display good performance to the employer.
Resume writing servicesprovide customized curriculum vitae for each candidate.
Resume drafted by professional resume writers reflect your over-all personality in a strong language.
Professional resume writing services let your resume provide only necessary details to the employer.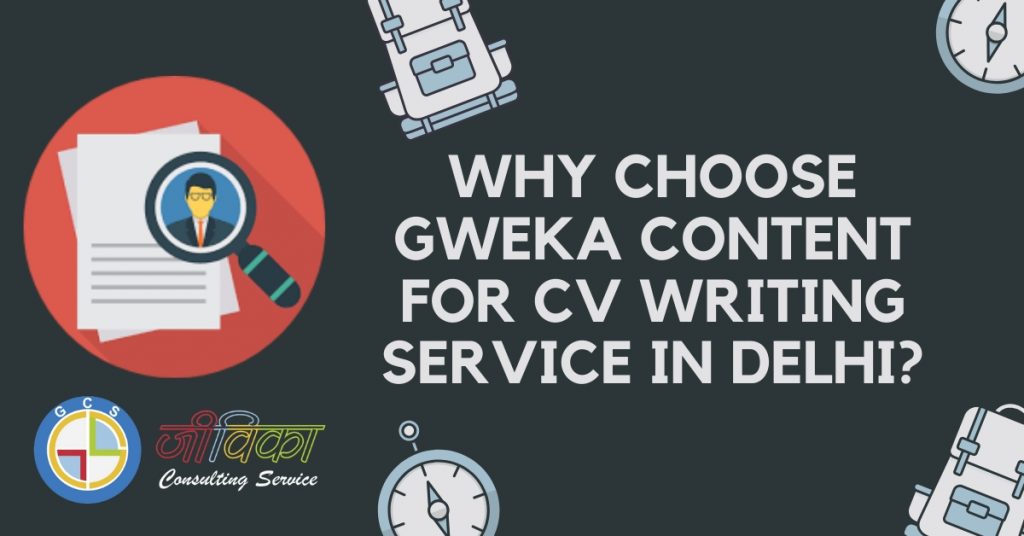 Why choose Gweka Content for CV Writing Service in Delhi?
Whether you are a content writer or someone who wants to hire a content writer, you must be thinking why only Gweka.com. At Gweka, we believe that an easy-to-access and trustworthy platform of people who are somehow related to the word "Job" or "Work" can be a great help for everyone. And that's what we are!
Proposal for Best Resume Writing Services in Delhi NCR / CV Writer in Gurgaon Delhi NCR/ Bio-Data Writing Services in Noida
Resume are of utmost requirement in today's job market. Resume writing services are not cheap & to make sure that the Curriculum Vitae writing services you choose will likely be successful, We at GWeKa here to help you put your best foot forward by creating a professional CV.
Resume Development Charges-
| | | | |
| --- | --- | --- | --- |
| S.No. | Experience | Resume Writing Charges (INR) | Cover Letter Charges- Optional (INR) |
| 1 | 0 – 2 Year | 750 | 250 |
| 2 | 2 – 5 Year | 1500 | 500 |
| 3 | 5 – 10 Year | 2000 | 1000 |
| 4 | 10 – 15 Year | 2500 | 1500 |
| 5 | 15 – 25 Year | 3000 | 1500 |
Why GWEKA for Best Resume Writing Services-
We create and showcase difference among the crowd of millions.
No room for mistakes or error within a resume.
Resume written via us is first impression that you can make about you in the mind of recruiter.
Recruiters shortlist 1 out of 20 CV for Interview, we offer you 20 times more probability to get succeeded.
We can offer you quality customized CV catering to your needs.
Best CV/ Resume Development Services offered at very reasonable prize.
Last but not the least, you can have that personal touch from our end that no one else offers, that other big shots lack in as for us customer is the King.
Name of Resume File-
Wrong Format-
Resume, Update Resume, Updated New, New Resume, Final Resume, Final
Correct Format-
Name_Location_Functional Area_Education_Experience_Salary_Company Name
Email ID-
Wrong Format-
Using absurd email ids- cuteangel, pari, rock, avdc284, ravi123135 Using Official Email Ids- @officialemailid
Correct Format-
[email protected]
email id
Forgot to mention Phone Number-
Wrong Format-
Either forgot to enter correct phone numbers OR entering 9 digit phone number OR entering current employer official phone number OR mentioning Spouse Phone Number in 1
st
Place.
Correct Format-
+91 – xx xxxx xxxx (Country Code – Two Number SPACE Four Number SPACE Four Number)
Objective-
Wrong Format-
Copy Paste long objective from Friends, Colleges or web and mentioning in the top of resume
Correct Format-
Writing about your profession with a clear cut objective of maximum 10 words would serve the purpose.
Font, Colour and spacing-
Wrong Format-
Using Font which are either too small or too large
Using colours which won't look professional
Giving big white spacing which give poor esthetics
Correct Format-
Using 14 to 16 Number Font Size for Headings & 10 to 12 Number Font Size for the rest of resume with a line spacing of 1.5 would give a professional look to resume.
Sending Resume via email–
(Without mentioning Specific Subject and Email Body Text to someone)
Wrong Format-
Wrong Subjects- Resume, Job Seeker, Looking for Job Opportunity, PFA Resume
Wrong Email Body Text- Looking for a job pfa cv.
Correct Format-
Subject- Name | Profession | Location | Experience | Salary | Company Name
Email Body Text-
Dear Recruiter, Looking for a new job opportunity, please consider attached Cover Letter* & Resume for your perusal. Thanks and Regards, Name Ph No. – 2 Phone Numbers
Spelling Mistakes–
Give your profile a spell check, either use technology or guidance from mentors.
Writing Paragraphs-
No HR have time to read stories, Write Meaningful bullet points max 10, preferably of 1 line each.
Using Heavy Media Files-
A Resume file size should be 200kb to 1000kb size, but should not be more than 2 MB size.
Flow of Experience & Education-
For Experience-
While mentioning Experience, in the Top Mention the latest company experience than to older one and in the last the oldest one.
For Education-
While mentioning Education, in the Top Mention Latest & Highest Education than lesser one. *Cover Letter- For Middle to Senior Level Profiles, it's mandatory to have a cover letter brief of job seeker profile. Get Your Cover Letter or Resume Designed by GWEKA,
Send Query
.